The outline of HLS
application is multilingualization-solution, so that 87%-world-people can use.
Some people who live in foreign countires, have difficulty in receiving medical care.
If you use HLS, you can make a diagnosissmoothly, even if patients are foreinger.
Healthcare-professionals can communicate with patients very well through the application..
In addition, you canmake the the diagnosis-result as PDF file, and then print out..
Japanese published examined application 2012-248982
Introduction of HLS series

Diagnosis
By introducing this, the multilingual presentation of a patient's chief complaint can be carried out by answering a present condition and development-of-symptoms time with a menu.
Informed consent
By introducing this, a doctor and a nurse can present an inspection method and the medical treatment method to a patient.
Moreover, the time of hospitalization, accounts, etc. can be shown to a patient.

Manager
By introducing this, the oral consultation result of two or more HLS(s) can be performed for unified management, user management, etc. by introducing this.

Floor guide
By introducing this, while displaying a floor guide of the House by many languages, presentation of destination guidance can be performed.

Payment
By introducing this, the multilingual presentation of the accounting service of a hospital can be carried out.
(The request for money、How to pay、Handling of insurance, etc. )

Translation center (Option)
This can translate the contents of oral consultation or the medical checkup simultaneously by telephoning a medical interpreting base.
The outline of a system
Health life Web Server shares each information, and it can attain instant sharing of treatment information using PC or a tablet computer among all the staff engaged in medical treatment.
Moreover, increase in business efficiency is realized by information cooperation of HLS, the barrier of language is overcome, and offer of service led by a patient is enabled.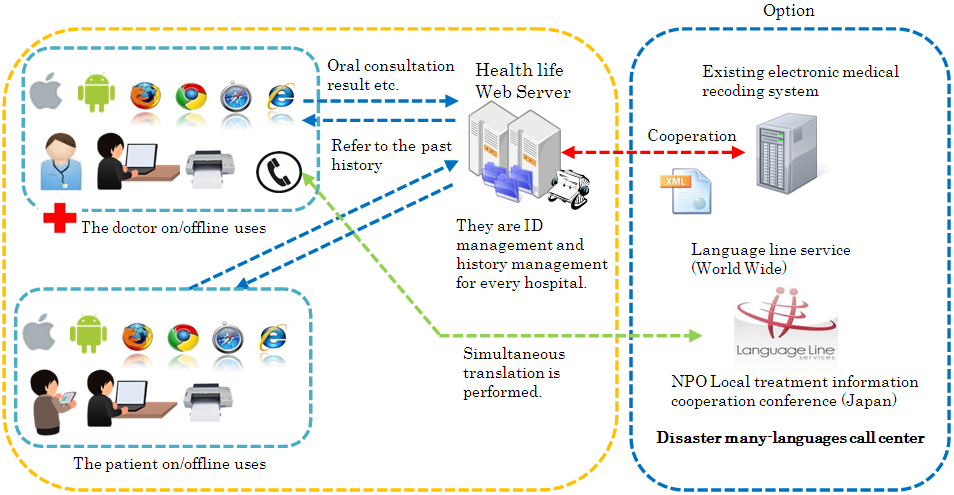 The iOS version is planning correspondence one by one.
Function
It corresponds to various browsers and a device.
From on PC, it accesses simply from a web browser.
The exclusive application of the various tablets of iOS and Andoroid and a smart phone is offered. (Using On-line / off-line is possible. )
When using it off-line, server cooperation etc cannot use a function in part.
Expanded function
Cooperation with a medical interpreting call center
22 languages of HLS series correspond.
Arabian
Simplified Chinese
Traditional Chinese
Croatian
Czech
English
Spanish
French
German
Indonesian
Italian
Japanese
Hiragana (Japanese)
Korean
Malay
Polish
Portuguese
Romanian
Russian
Slovak
Thai
Turkish
Vietnamese
February, 2013 time. It is a correspondence language addition one by one.